Grade Levels:

PreK - 4th Grade

Mission:

Our Mission is to provide a child-centered learning environment that promotes positive self-esteem and life-long learning through mutual involvement of school, family, and community.

School Hours:

Preschool Hours:

Full Day Preschool- 9:55am- 3:30pm

AM/PM Preschool- Morning: 9:45 - 12:05pm OR Afternoon: 1:00pm-3:10pm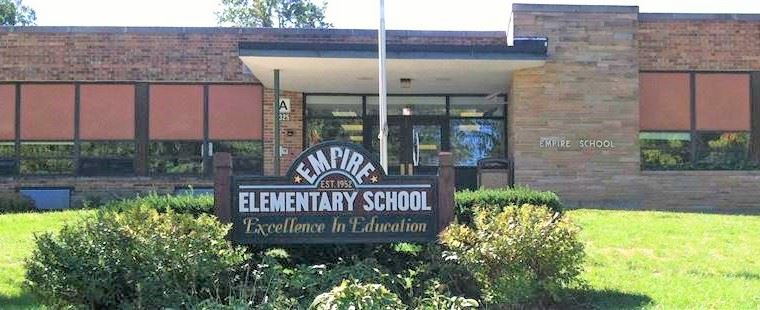 Empire Elementary School serves grade levels Pre-K through 4th. With an approximate enrollment of 300 students, the average class size at the school is 18 students. Empire is a Blue Ribbon School, recognized in 2008 as a National School of Excellence. In 2010, the school also received the Excellence Award for Exemplary Academic Performance on the Learning Standards.

The District Social Emotional Learning Focused (SELF) Program, serving students with significant emotional and/or behavioral challenges, is housed at Empire Elementary School.

The Empire staff consists of 50 talented individuals whose aim is to provide a supportive and stimulating learning environment for a diverse group of learners. The school's dedicated parent & volunteer community, including its loyal PTO, supports the students and staff at Empire Elementary School throughout the entire year. Empire takes pride in the strength of the partnership that it has established with its wonderful parent & volunteer community!